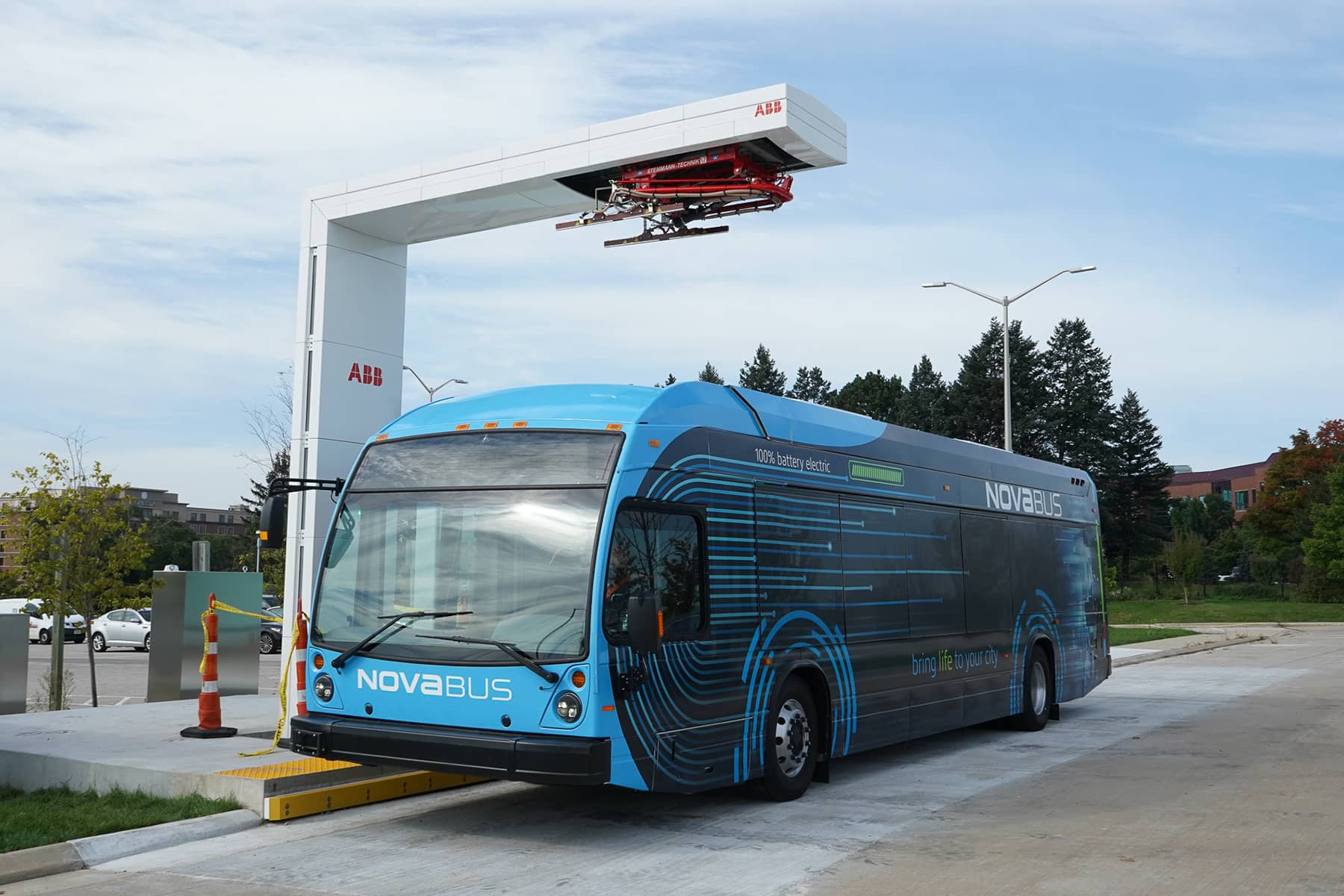 Progress continues on Milwaukee County's innovative East-West Bus Rapid Transit (BRT) line with the installation of the first charging station at the Milwaukee Regional Medical Center in Wauwatosa.
The planned 9-mile, regional, modern transit line operated by the Milwaukee County Transit System (MCTS) is scheduled to begin service in June 2023, connecting to major employment, education and recreation destinations through downtown Milwaukee, Milwaukee's Near West Side, Marquette University, Wauwatosa, and the Milwaukee Regional Medical Center.
The new BRT route will come with two battery-electric bus (BEB) charging stations – one at each end of the line. The first is currently operating at Watertown Plank at the end of the route while the second will be built at the BRT's starting point at the Couture in downtown Milwaukee.
To help ensure the BEB batteries are always fully functioning, MCTS has implemented a charge management plan, which calls for topping off each bus battery every third lap of the 18-mile roundtrip route, for nine minutes. Then, each night, the fleet of battery electric buses will be charged for approximately two hours overnight.
The charging pole at Watertown Plank Road stands 15 feet tall and weighs 3,000 pounds. ABB, a world leader in electric vehicle infrastructure, manufactured the 450-Kilowatt charger, part of the E-mobility HVC-PD charging system.
The charging arm, called a pantograph, lowers and connects to the rooftop of the bus in what is called a "handshake." It quietly and efficiently charges the electric bus in as little as three to six minutes.
The battery-electric buses can operate up to 247 miles on a single charge. Electric buses improve air quality and reduce noise pollution due to their zero-emission profile.
Nova Bus, a leading North American transportation manufacturer that's part of the Volvo Group, will produce the all-electric LFSe+ buses for MCTS. The first of the 11 buses will arrive in November. Four additional buses arrive in 2023.
North-South BRT Line: Proposed route unveiled to public
Following the East-West BRT line, the new 18-mile route would consist of mostly protected lanes and reduce end-to-end travel times by 15 minutes, compared to the MCTS PurpleLine that currently follows a similar. The North-South BRT project aims to reduce inequities in transportation, improving the quality of service for those who depend on transit, reducing reckless driving in the corridor, and attracting new riders. People of color make up approximately 73 percent of the population in the route corridor, which is comprised of concentrated areas of both Black and Hispanic populations. The areas also have particularly high proportions of households without access to a car. The new line would open for service by 2028.
© Photo
Milwaukee County Transit System (MCTS)