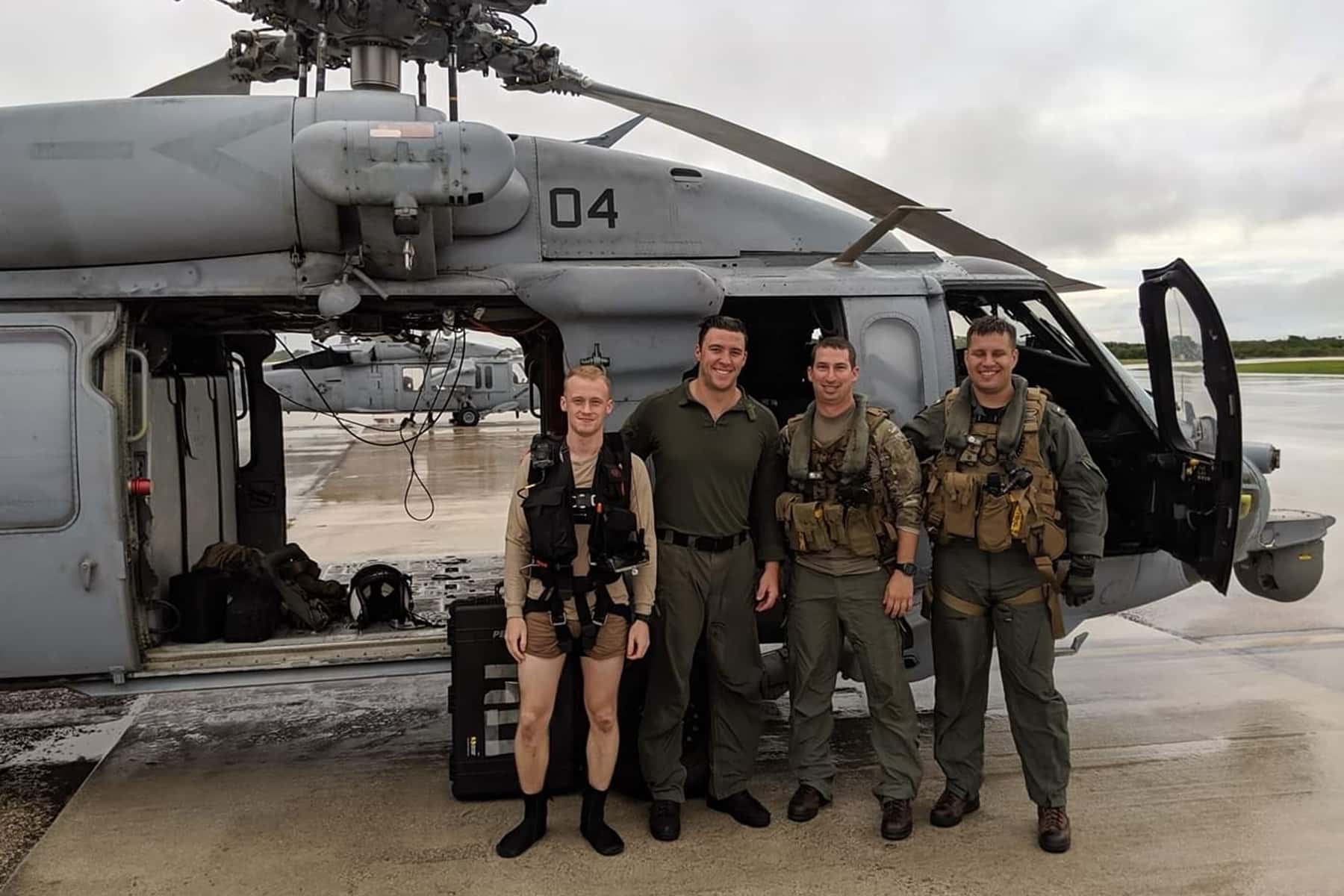 Three of the four team members on the Guam-based "Island Knights" responded to a civilian in distress aboard a sailboat on June 24.
The Helicopter Sea Combat Squadron (HSC) 25 was notified by the U.S. Coast Guard Sector Guam after the civilian utilized a satellite phone to request assistance. The Sailor was injured three days earlier while sailing through a severe thunderstorm aboard the 32 foot sailboat approximately 100 nautical miles west of Guam.
HSC-25 Search and Rescue, led by Aircraft Commander Lt. Nathan Gordon, was on scene within two hours of the initial call.
"We were told the gentleman's health had diminished significantly over a time span of three days," said Lt. Gordon. "The satellite phone was a key tool in today's rescue. His ability to contact the U.S. Coast Guard and pass us a precise location greatly decreased search time, getting him the medical care he desperately needed."
Lt. Gordon said that the rescue process went smoothly due to the crew's diligent work. The team consisted of Amherst, Wisconsin-native and co-pilot LTJG Caleb French; Menominee Falls, Wisconsin-native and crew chief AWS2 Dominic Thomas; Stevens Point, Wisconsin-native and rescue swimmer AWS2 Preston Smith; and medical support from SAR Medical Technician HN Nolan Turner and HSC-25's Flight Surgeon Lt. Erik Kumetz.
The incident was the 16th emergency call to HSC-25 by U.S. Coast Guard Sector Guam this year, and marks 14 recoveries during search and rescue and medical evacuations in 2019. HSC-25 provides a multi-mission rotary wing capability for units in the U.S. 7th Fleet area of operations and maintains a Guam-based 24-hour search and rescue and medical evacuation capability, directly supporting U.S. Coast Guard and Joint Region Marianas. HSC-25 is the Navy's only forward-deployed MH-60S expeditionary squadron.
"This rescue represents how hard each sailor works to provide full mission capable aircraft so we are ready to support the search and rescue mission of Guam and the CNMI," said Commander Christopher Carreon, Executive Officer, HSC-25.