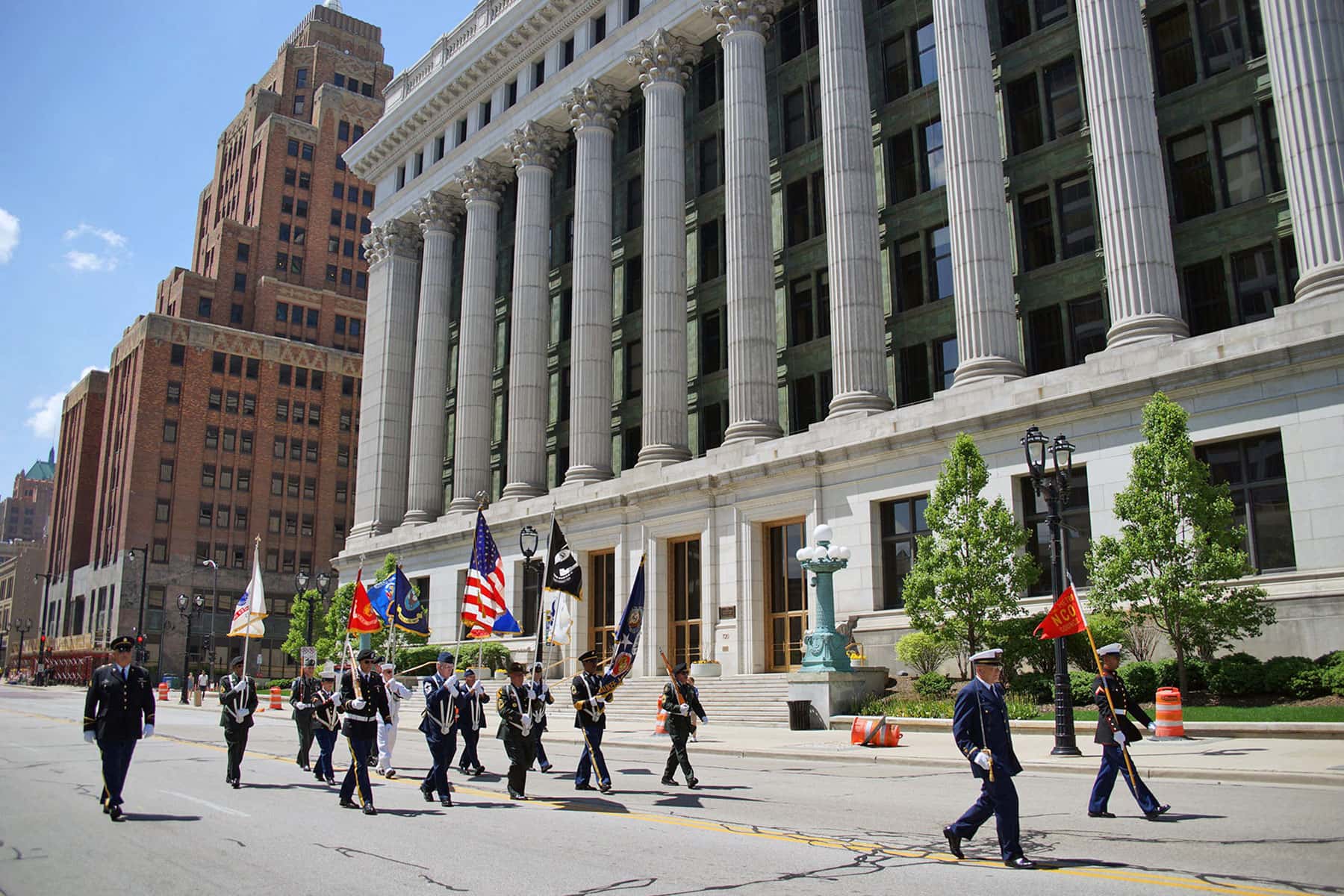 Concerning the ongoing controversy of NFL players not standing for the national anthem, the argument against it has been that the protest disrespects American veterans. But all the shouting about respect has hijacked the actual action that shows respect in the most simple terms, a Veterans Day Parade.
Leaving the NFL issue aside, those Milwaukee voices who talk about respect have done nothing to put their money where their mouth is. Because since 2014, a foreign corporation has kept the Milwaukee Veterans Day Parade going. Without the generous assistance from the TransCanada Corporation, a 54 year tradition of honoring Milwaukee veterans would have ended.
While Milwaukee corporations line-up for press conferences to show off their support for Milwaukee, with their logo and name-brand all across their over-sized donation checks, a Canadian company had to step in because they did not. According to parade organizers, some Milwaukee enterprises did not feel they got enough media exposure to make a financial contribution worthwhile.
For about a decade, the Veterans Day Parade of Milwaukee organization had sponsored the annual event and its companion Day of Honor festivities, which brings thousands of veterans and families to downtown Milwaukee. More than a thousand veterans and active members of the military participate in the parade annually, coming from all over Southeastern Wisconsin. In 2014, the parade lost some significant sponsors and would have been cancelled if not for a generous $20,000 donation from TransCanada.
"Investing in the communities where employees live and work is fundamental to TransCanada's corporate social responsibility objectives. That's why when an employee saw the news story about the Veterans Day Parade, and its critical financial situation, TransCanada stepped in to help," said Matthew Stubbs, a manager with TransCanada. "This event is important to the people of Milwaukee and especially meaningful to the families of active duty military and veterans. At TransCanada, we are proud to support our veterans, and we recruit veterans to enter into our workforce through the Helmets to Hardhats program. Supporting these activities made sense."
TransCanada believes honoring veterans includes supporting opportunities for communities to recognize their sacrifice. TransCanada's company-wide strategy has supported innovative programs throughout North America to honor military veterans, and assist them in their transition into a civilian career.
"It's just a tremendous boost for our Veterans," said Warren Skonieczny, a board member of the Milwaukee Veterans Day Parade. "It's their day, and it's just great to have the community at large remember what they've done for everyone and our freedoms."
The Milwaukee business community, and by extension Waukesha County as well, send a conflicting message about local support when they cannot help fund the one event a year that all veterans can be involved in. The Veterans Day Parade is a chance to honor hometown heroes who are still alive. The handful of small sponsors who have supported the event deserve a lot of credit for their contributions, including the Harley-Davidson Motor Company. But, the $20,000 sponsorship needed to keep the tradition going has been given by a non-Wisconsin company for the past three years.
When there is public discourse over sports, the flag, and how to honor veterans, the viral outrage on social media is a complete fraud if residents fail to act or at least pressure the economic community to support a long standing method for presenting public honors.
A parade is something anyone can contribute to, especially corporate leaders, nonprofits, and foundations who tout their investment in the city as goodwill ambassadors. A parade is not an intensive program like feeding hungry vets, it does not give them jobs or housing, and it does not try to help them re-adjust to civilian life after combat.
A parade gives the military men and women the simple dignity and pride that often times they have been denied, and it requires a minimal effort from the community. So for all the feinted outrage expressed online by so many over patriotism, a donation – like the cost of a cup of coffee – to keep the parade going is an easy and tangible action. For 2017 at least, Milwaukee can again thank the Canadians, something that everyone who stands along the parade route to cheer our local heroes should remember.
The 54th Annual Veterans Day Parade and Day of Honor will be held on November 4. The parade begins at 11:00 a.m. at Plankinton Avenue and Wells Street, travels the length of Wells Street until Prospect Avenue, leading into the Milwaukee County War Memorial for a lakefront ceremony.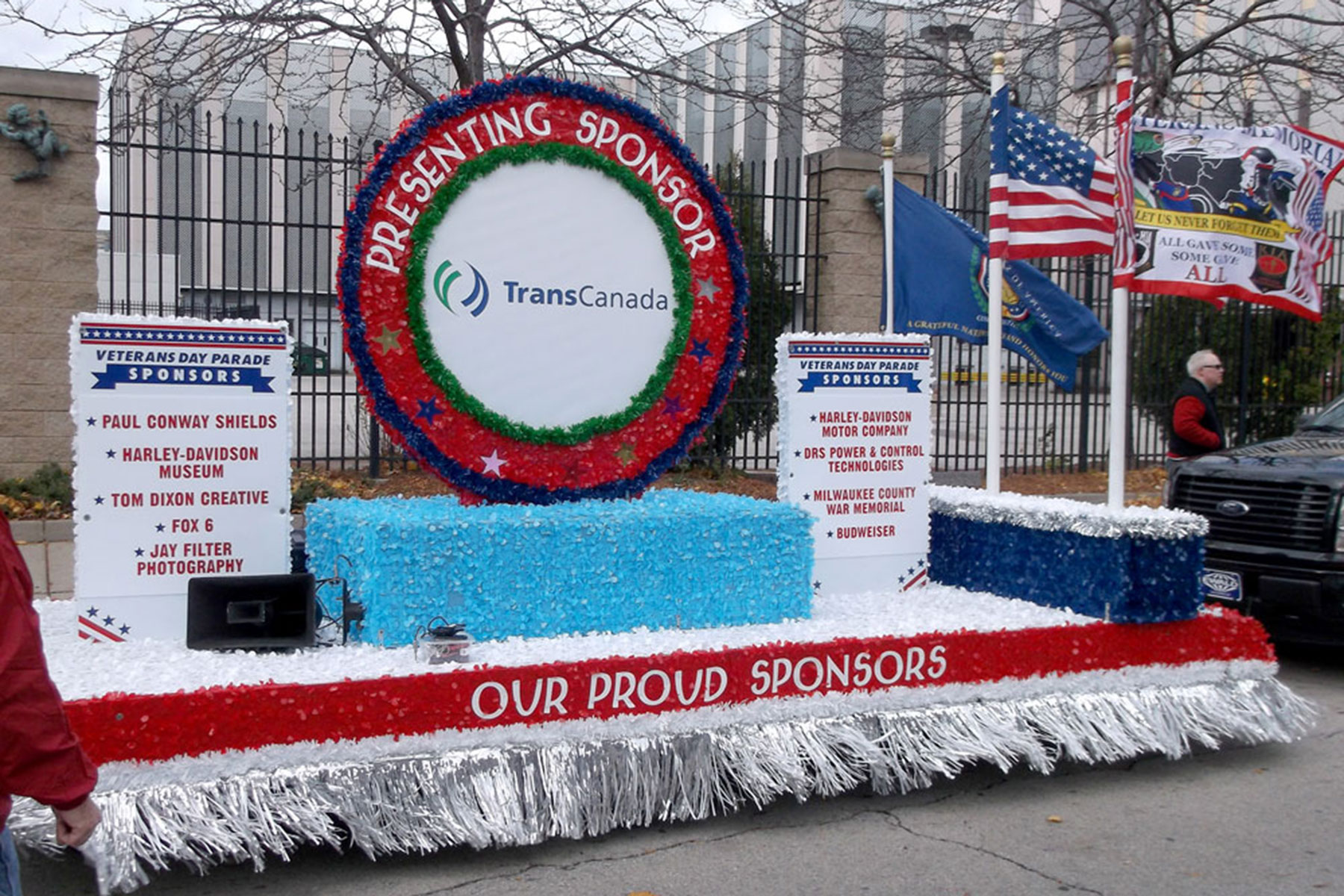 © Photo
Lee Matz and TransCanada Corporation