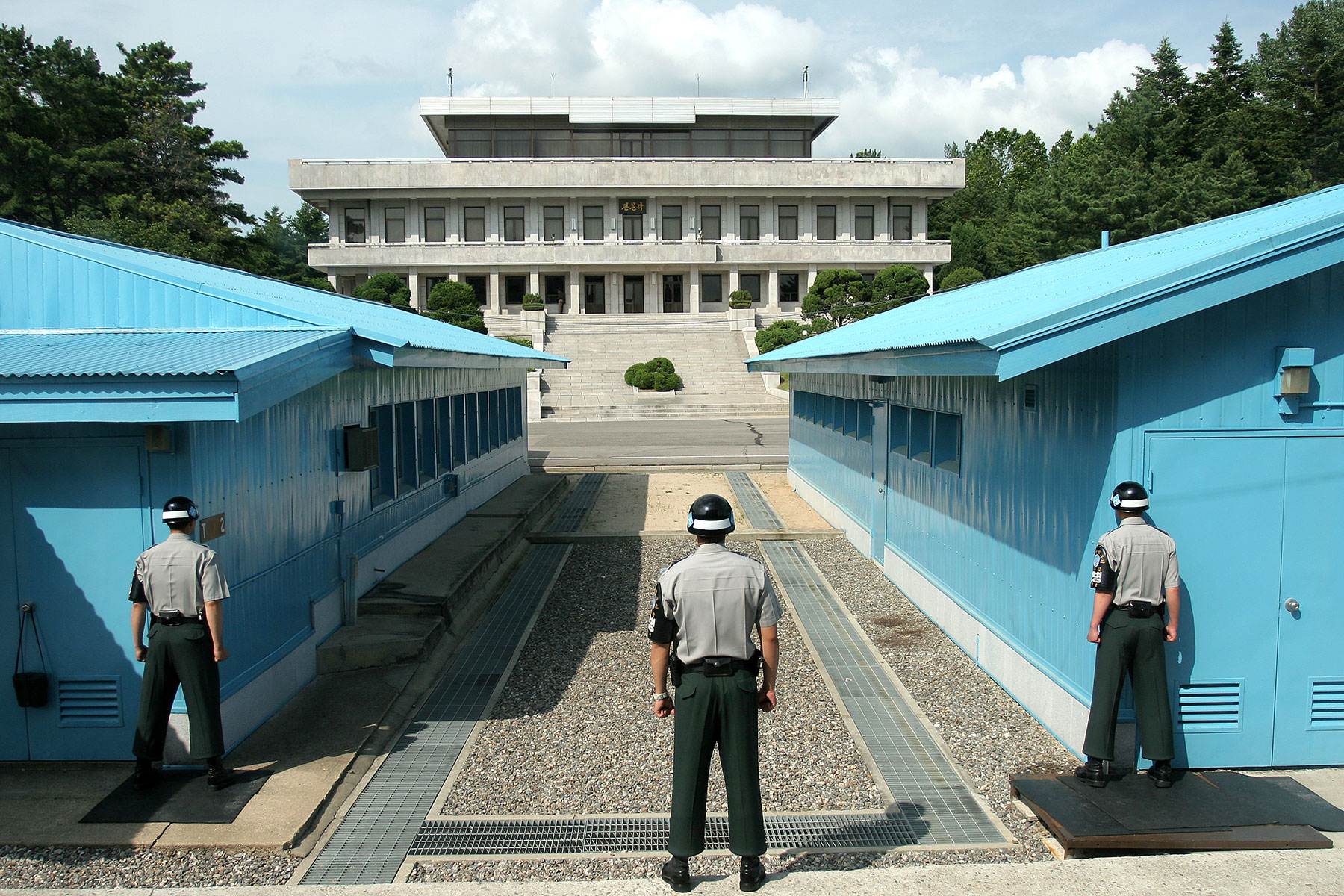 When the President of United States stood before the United Nations General Assembly and threatened to "totally destroy" a nation of 25 million people, American scholars, supporters of peaceful alternatives, and the local Korean community sought to offer the Milwaukee public a rational understanding about the situation in North Korea.
On September 9, UWM History Professor Nan Kim and Rev. PyungAhn "Peace" Kim, Associate Pastor of Whitefish Bay United Methodist Church (UMC) spoke on "How Can We Understand the Current Crisis in Korea?" to an overflow crowd. Sponsored by the local United Nations Association (UNA) chapter, The speakers covered Korean history and a timeline of American policies in the divided nation.
Professor Kim is an internationally recognized American scholar on Korea, who has written and lectured widely on related topics. She also teaches courses at UWM on Modern Korea and the international impact of the Korean war. She was invited to speak this summer on a panel in Washington, D.C. with former U.S. Secretary of Defense William Perry and other prominent authorities on the Korean peace process.
Pastor Kim was born, raised, and educated through graduate school at prominent educational institutions in South Korea. As a child he attended an "anti-communism" class, which instilled him with the vision that the North Koreans were not human beings but animals like wolves. His resulting fears and nightmares were not unique to his experience.
Despite that, Pastor Kim stated that South Korea and its people do not want a military option to address the differences on the peninsula. His concern was that other powers, specifically the United States or Japan, might undertake a military action without the consent of South Korea.
Most people in America do not realize that a continuous state of war remains with North Korea. The police action that kiIIed millions of civilians on the Korean peninsula from 1950 to 1953 never ended in a peace agreement, but merely a cease fire. That armistice has remained in place and the conflict unresolved for the past six decades.
With a population double the size of the North, South Korea continues to host at least 15 U.S. bases with 30,000 U.S. troops, and benefits from an even larger U.S. military presence in Japan and Guam. North Korea has no support from foreign troops or bases to augment its a disproportionately large army.
Both speakers indicated that there is a level of hype and even hysteria in the U.S. regarding threats from North Korea that is not matched in South Korea. As a result, the threat of miscalculation could lead to a catastrophic war, with devastating losses on both sides of the 38th parallel that divides the North from the South. This dividing line was arbitrarily picked by U.S. with Soviet military representatives, and no input from the Koreans. It was selected after Japan suddenly surrendered at the end of WWII, following the U.S. atomic bombings of Hiroshima and Nagasaki. Japan had been the occupying force since it invaded the country in 1910.
Rev. Kim stated that the Methodist Church and other organized Christian communities function in both Koreas, and that the Korean Caucus of the UMC in the U.S. gives them support, while opposing military action or any use of nuclear weapons. It also aides refugees from the North, and works for a peace treaty to end the Korean war.
At the recent UNA program, Rev. Kim quoted from a representative of North Korea, who cited the example of Libyan leader Muammar Gaddafi's agreement to give up his nuclear weapons program, only to be overthrown and kiIIed in conjunction with the subsequent NATO bombing campaign. The lesson drawn in North Korea was essentially that "only nuclear weapons can defend our country."
Professor Kim felt that it was important for people in Milwaukee to have some genuine understanding of Korean history and ongoing developments, citing surveys that show people in the U.S. who can find Korea on the map are significantly less likely to support taking military action, compared to those who cannot locate it.
She stressed that a deeper knowledge was needed by citizens at every level, so that North Korean provocations could be viewed in their proper context. North Korean leader Kim Jong Un, who follows the hereditary rule of his country following his father and grandfather, uses a great deal of propaganda against America in order to maintain his grip on power.
With a longstanding Korean community in Milwaukee, Professor Kim felt that the local public should also be more aware of the political conditions in South Korea, which saw the impeachment and removal of its president this year due to mass protests over her corruption scandal. She explained that in spite of the rift that has lasted generations, it remains the wish of all Koreans to one day see the country reunified.