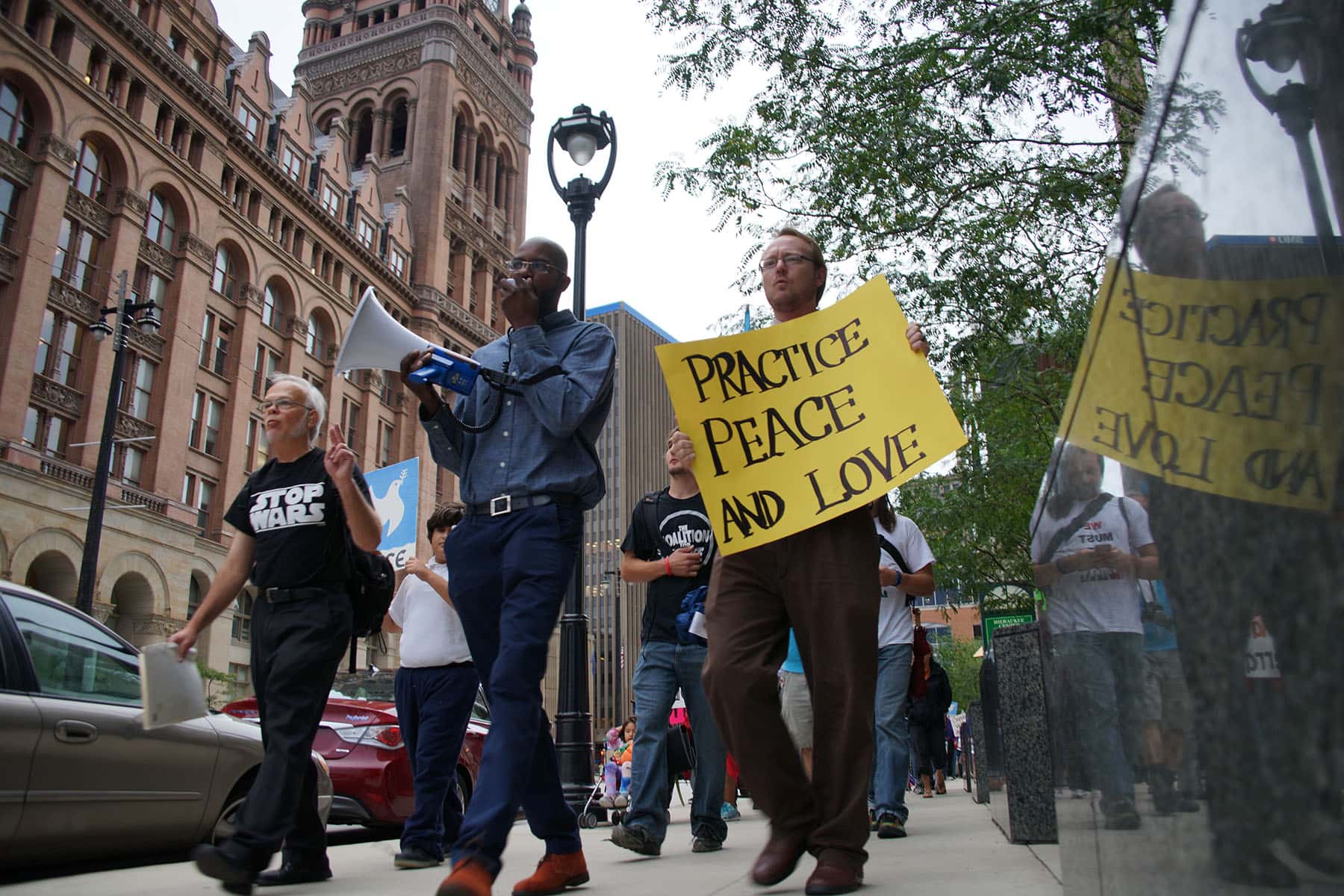 Local peace organizations celebrated U.N. International Day of Peace with a march and speeches. The event brought these groups together in the hope of finding shared solutions for building a more peaceful Milwaukee.
Organizations supporting peace and justice gathered in front of Milwaukee City Hall on September 21 for a march in celebration of U.N. International Day of Peace. After the march, participants filed into the atrium of City Hall to listen to speeches by 11 prominent leaders of local peace organizations.
The speakers represented a diverse array of peace initiatives throughout the city and state, from Janan Najeeb, president of Milwaukee Muslim Women's Coalition, to Reggie Jackson, executive board member of Rid Racism Milwaukee, to Mark Foreman and Will Williams of Veterans for Peace.
Sara Little Red Feather of the Indigenous Environmental Network was unable to attend because she was protesting the construction of a pipeline on Native American Land in North Dakota.
The event was the first of its kind to celebrate International Day of Peace in such a large scale in Milwaukee. Jaime Alvarado, executive board member of both Rid Racism Milwaukee and League of United Latin American Citizens, helped organize the march as head of communications and outreach.
Alvarado said that the main purpose of the large-scale event was to bring like-minded peace organizations together to share details about their individual efforts, and work on solutions towards creating a more peaceful Milwaukee. They also formed the event to encourage reflection about the stereotypes and fear that often foster hate, and to educate the general public about these organizations and their efforts to combat these stereotypes.
"We're here to bring awareness and let the community know that there are many organizations that think peace in the world is worth working towards," said Najeeb. "There are so many organizations in the community working towards different aspects of peace. We're pieces of the puzzle to bring peace about."
For some in Milwaukee, peace can at times seem far away. Speaker Nate Hamilton, for example, lost his brother Dontre to a police shooting in 2014. He and his family founded the Coalition for Justice to bring awareness of Dontre's case. Despite his brother's loss, Hamilton still believes peace is possible.
"When I think of peace, I think of a door that has been shut," said Hamilton. "We have been looking for peace in every corner of this world. Whether it's war, or schooling, or any aspect of our lives, we've been searching for peace. The way out of this door is to forge a key, a key of love."
Jackson also has close experiences with violence in Milwaukee. Along with being on the executive board of Rid Racism, he is Head Griot of America's Black Holocaust Museum, and a seventh grade special education teacher at a local school.
"The reality is that peace is far from being the normal," said Jackson. "I'm a teacher and I see the impact violence has on students and their families. There were two fights I had to break up today at school."
In pointing out the irony of having to break up fights on the International Day of Peace, Jackson presented the deep-seated roots that violence has in the community. With Milwaukee being consistently ranked in the top twenty most violent cities in the U.S., the city has a long way to go before true peace can be found and sustained. But with local peace organizations coming together in solidarity, participants at the event felt solutions could be found to make peace attainable in the future.