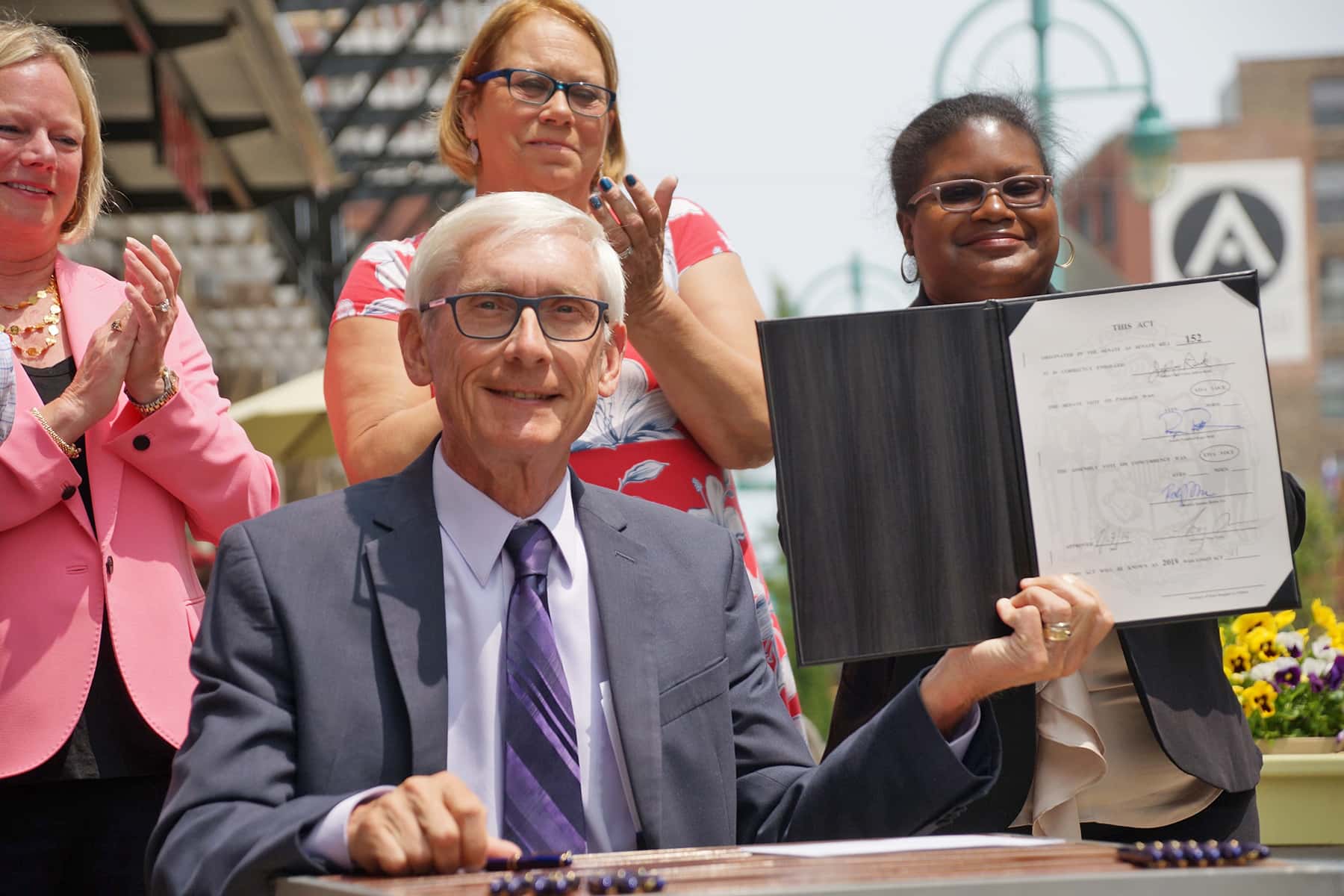 Governor Tony Evers signed Senate Bill 152, now 2019 Wisconsin Act 11, on July 8 outside of the Milwaukee Public Market, expanding transportation options statewide and giving municipalities the ability to manage the right balance of safety and access of the right of way for all electric scooter users.
The City of Milwaukee filed a lawsuit in July last year against Bird motorized scooters, with an injunction ordering their removal from streets and sidewalks in downtown and adjoining metropolitan areas. At the time, there was not a state-level regulatory policy. The city and the company reached a settlement that called for Bird to bring the scooters back once regulations are adopted.
"It was almost a year ago when we first saw signs of Bird droppings, the first sign of scooters in the city of Milwaukee," said Mayor Tom Barrett. "And there was a lot of enthusiasm by residents, along with concerns. So, it became clear to us that there was an interest to use this mode of transportation."
The problem was that the city interpreted state law to mean that scooters and similar vehicles were not permitted on public streets. Milwaukee sent a team to Madison to work with state legislators to fashion a change in state law that would allow the city to move forward, and it turned out to be a bipartisan effort.
"We should be setting the floor, not the ceiling, for local governments in Wisconsin," said Governor Evers. "Electric scooters improve access to low-cost transportation options and can serve as a first or last-mile solution to residents and visitors in communities throughout our state. By providing clarity to a rapidly-growing industry, this bill empowers local governments to make the decisions that best fit their area."
Now that the legislation is law, the Milwaukee Common Council will address the issue of electric scooters by moving forward with a pilot program that was developed last year. The bipartisan legislation, introduced by State Senator Dale Kooyenga and State Representative Mike Kuglitsch, determines that electric scooters are exempt from vehicle registration by the Department of Transportation; operators of electric scooters must observe many of the rules of the road; electric scooters may be operated on most roadways, sidewalks, bicycle lanes, and bicycle ways, however, a local highway authority may by ordinance regulate the rental and operation of electric scooters; and electric scooters must satisfy the same equipment requirements as Electric Personal Assistive Mobility Devices (EPAMDs), including lighting and brake requirements.
So far Bird, Lime, and Jump are the three companies that will be allowed to accept riders in the city's trial program this summer. Electric scooters could be back on Milwaukee streets within a few weeks of the Common Council approving the measure.
"We want this to be a city open to many modes of transportation, and this is one that some individuals want to partake in," added Mayor Barrett. "But none of this would have happened without the support of Governor Evers. It's great to have a governor who wants to work with local governments."