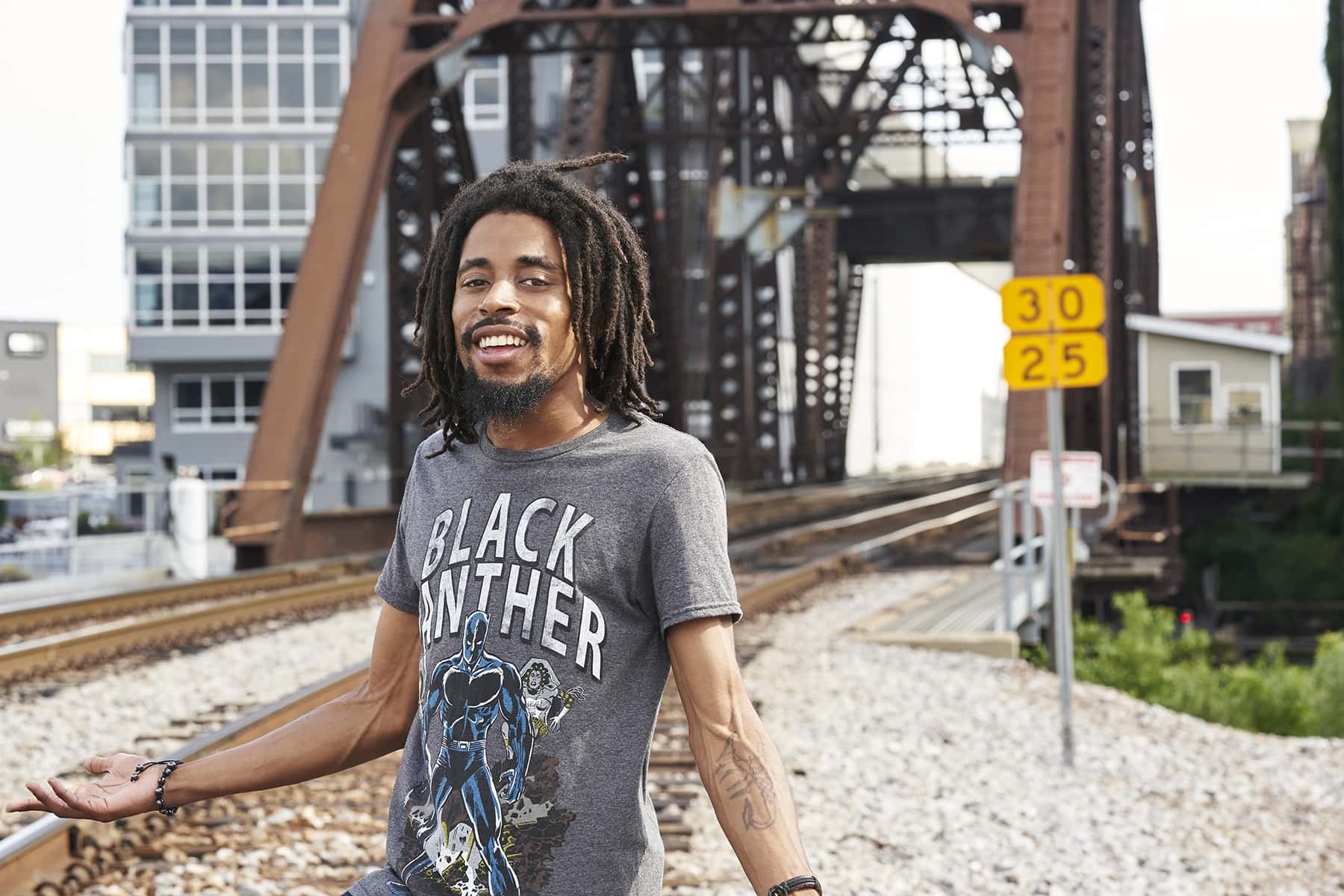 Full of life with a constant stream of energy, Lamont LaRue Combs is an outgoing musician with an overwhelmingly positive outlook on the world around him.
Better known by his stage name, Rue the Poet has begun to make his mark on Milwaukee through his hip-hop lyrics. Combs uses his words to inspire his audience by rapping about his experiences in hopes that others can relate to him. By telling his truth to the world, he believes he can affect his listeners in a positive way and learn from their feedback.
"Music saves lives," he said. "Your message is meant to be told."
Rue the Poet arrived on the local scene in January 2017 when his first album "Creative Space and Other Stuff" was released. On that album is his most well-known song "Y.G.B.Y. (You Gotta Be You)" featuring Abby Jeanne.
"I wanted the song to be a lifesaver," Combs states. He went on to explain that the song is meant to remind people in low places not to let others bring them down. They are in control of their own lives and should not "get caught up in the world and all its demands."
Take a look at your life
Are you really being you?
Or are you just caught in the fate of the maze
Of what everybody wants you to do…
Everyday I look outside my window
Dreaming of the places that I'm gonna go
(You know I'm dreaming of these places I know that I'm gonna go)
Everyday I look outside my window
Dreaming of the places I'm gonna go
(I already know where I'm gonna go)

– Y.G.B.Y. lyrics
Early in life, inspiration for writing came to Combs from the music his parents would play, including Earth Wind and Fire, the Temptations, and the Bee Gees. Everything captured his attention at that age and still does. Unlike his peers, he would often leave his neighborhood to explore Milwaukee and get a taste of different lifestyles around the city. It gave him a new perspective, he explains, showing him that although people may appear different, we all have the same basic needs.
"I've seen separation, but I've seen how people can come together," he said. "We really have an essence and a culture here. This city inspires me because I know the potential. The potential of the unity."
That viewpoint pushes him to write his music in a way that brings people together.
Combs is gaining traction in Milwaukee and getting his message out. He has been featured on 88.9 Radio Milwaukee numerous times, and just performed at the station's 414 Live session on September 13.
His new record "NS8," short for "Now Serving Infinity" is set to debut on his birthday, October 31.
"I'm bringing everything to the table," he said.
Combs is an advocate for Milwaukee, using his music to talk about the issues the culture is facing and how to work towards resolving them. Through music, he believes people can find a common ground and understand one another.