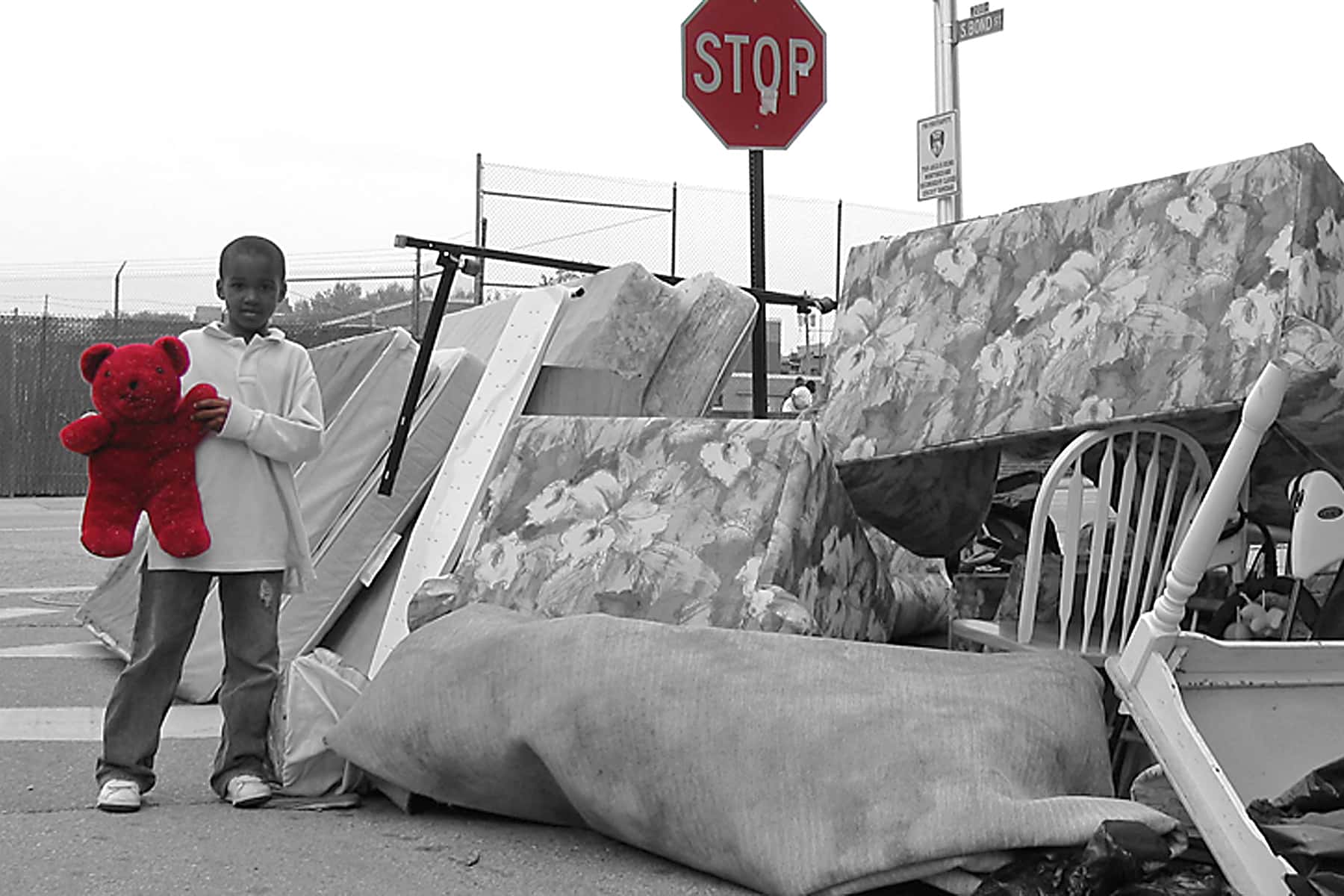 Inspired by Matthew Desmond's Pulitzer Prize-winning book, the "Evicted" exhibition will bring visitors into the world of low-income renter eviction during its Milwaukee display from June 14 through September 30.
The exhibition was designed to challenge visitors to face the enormity of one of 21st-century America's most devastating problems, while providing context for the crisis and a call to action. It will debut at the Mobile Design Box in the Near West Side at 753 North 27th Street, the first stop on a national tour that will visit 10 cities.
Previously on display in Washington DC at the National Building Museum, Evicted is an immersive exhibition that introduces visitors to the intimate, painful process of low-income renter eviction. Inspired by Matthew Desmond's Pulitzer Prize-winning book Evicted: Poverty and Profit in the American City about eviction in Milwaukee, the experience presents data developed by Desmond's Eviction Lab and features original photography and audio examining reasons for and the fallout from eviction.
"We are looking forward to welcoming the Evicted exhibition to the Near West Side," said Keith Stanley, Near West Side Partners Executive Director. "This exhibit provides an opportunity for us to bring awareness to an issue that impacts families throughout our Milwaukee community."
A stable place to call home is one of the best predictors of success. Yet, each year more than 2.3 million Americans, most of them low-income renters, face eviction. While it used to be rare even in the poorest neighborhoods, forcible removal has become ordinary, with families facing eviction from the most squalid, barely inhabitable apartments. This phenomenon exposes not only income inequality in America, but also the growing separation between the built environments of the rich and the poor.
Eviction occurs when renters are forcibly removed from their home by court order. Evictions and the threat of removal are disproportionately experienced by African American single mothers in many cities, but affect people of all backgrounds. An eviction record can mean that a family is now ineligible for other subsidies such as public housing. It can make job-hunting more difficult, if not nearly impossible. Finding a new place to live becomes almost a full-time job, especially in a sprawling metropolitan area without a car.
Housing instability threatens all aspects of family life: health, jobs, school, and personal relationships. Landlords hesitate to rent to those with eviction records, or charge them extra money, causing a devastating negative feedback loop. Children switch schools too often to make friends or be noticed and helped by teachers; neighbors cannot develop bonds; personal belongings are left in storage or out on the street. Americans often take home for granted—homes forms the building blocks of community life — and this stability is under attack when eviction looms.
The exhibit is free to the public, and employs a rich array of multimedia interviews. Specially commissioned visual infographics and forward-thinking design introduces visitors to the numbers and statistics they need to know in order to understand the crisis. Rates of evictions in different markets will make evident the depths of the problem. Working together, these elements amplify the stories of tenant families, as they explain in their own words and images the impact eviction has on them and their loved ones.
"Evicted introduces an underreported topic by increasing awareness of tenant issues" said Sarah Leavitt, Ph.D., National Building Museum curator. "Housing is at the center of so much; in order to focus on education, health or other issues, stable housing is necessary."
The exhibition also highlights ways that some local and state governments and nonprofits are intervening to upend the cycle of chronic evictions, such as Right to Counsel laws and new affordable housing projects. Visitors leave armed with ideas for ways they can enact change in their jurisdictions, and help alleviate the downward spiral for those already living on the economic edge.
In conjunction with Evicted, UWM's School of Architecture & Urban Planning will also present Finding Home – Architectural Solutions to America's Homeless Crisis, an exploration of homelessness in America from an architectural perspective and offering creative methods for temporary solutions.
© Photo
National Building Museum, Marshall Clarke, Paul Santomenna, Fred Gorman, Michael Kienitz, and Sally Ryan