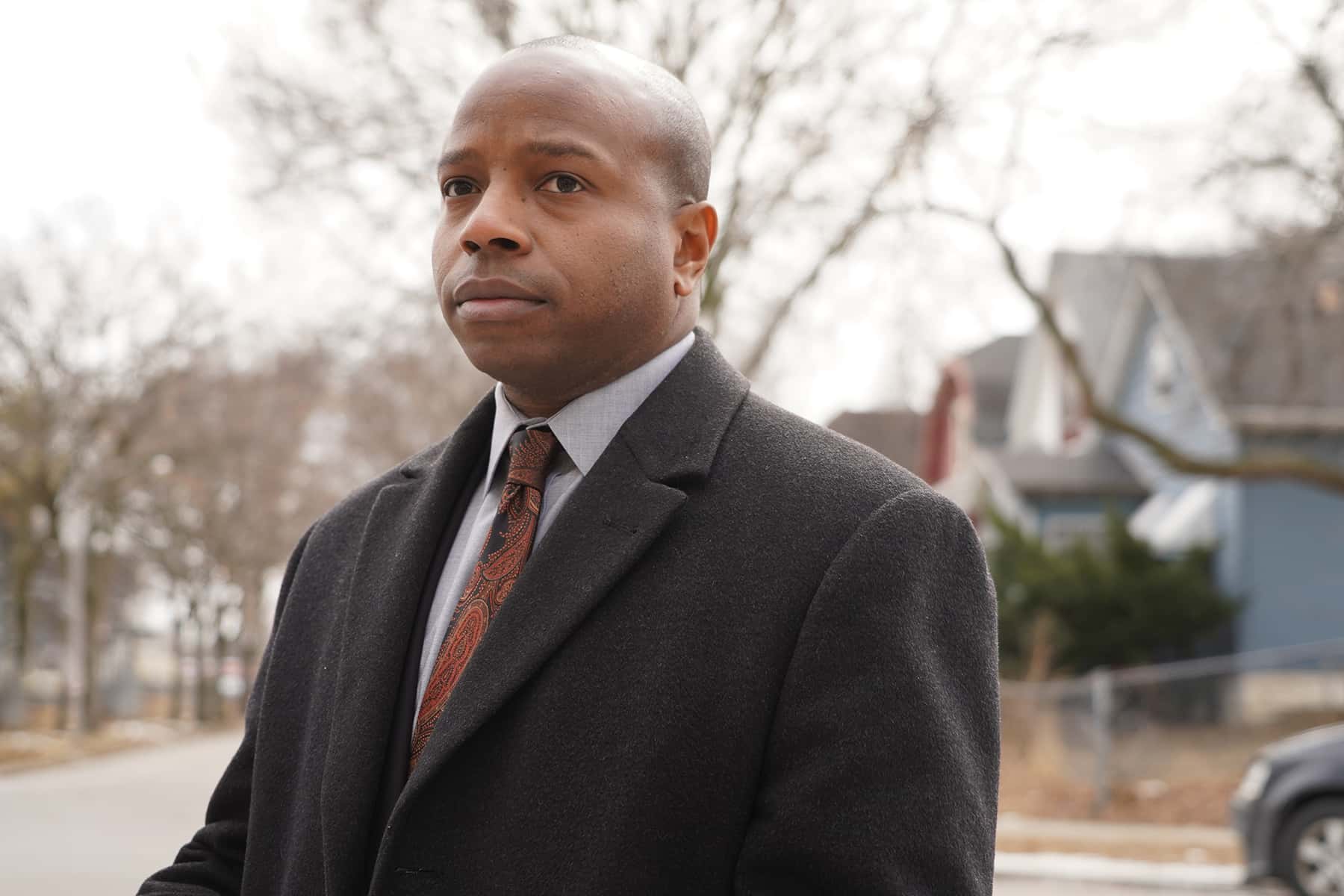 Acting Mayor Cavalier Johnson spoke with the Ukrainian Mayor of Irpin, Milwaukee's sister city, on March 4 for an update with the deteriorating conditions on the ground as Putin's invasion stretches into its second week.
With a population of roughly 62,000 the city of Irpin is located on the Irpin River in Kyiv province, about 15 miles northwest of Kyiv city in northern Ukraine. The area faces increasing damage and loss of life from indiscriminate bombing by the Russian military.
"I expressed to Mayor Markushin that Milwaukee, as his sister city, stands with the people of Irpin as they bravely face aggression from Russia. And, all our thoughts are with the people of Ukraine," said Mayor Johnson. "He was very grateful to receive the call. He was wishing and hoping that people of Milwaukee keep Ukraine in their thoughts and prayers, and we certainly will."
As Russian troops expand their brutal targeting of the civilian population, residents of major cities are seeking shelter against the onslaught. For citizens of Irpin, it means crossing the Irpin River to temporary safety.
When Mayor Johnson held the video call with Mayor Alexander Markushin, he had just returned "from the front lines, and he was wearing a flak jacket himself."
Mayor Markushin explained about the situation in Irpin and the ongoing threats to the population of the area. A Russian convoy stretching for miles had been pressing towards the capital city of Kyiv. But Ukrainian forces have blown up bridges and blocked roads to slow the advance of the Russian invaders.
Many European nations have been taking in refugees from Ukraine. It is still too early in the crisis to know what role Milwaukee would have in resettlement efforts. But Mayor Johnson said it was his hope that Milwaukee could be of assistance.
"Because we have the relationship that we do with Irpin, I would hope that we could assist with Ukrainian refugees," said Mayor Johnson. "When there were issues with Afghanistan, I think I was probably the first elected official in Wisconsin to say we want those people here. And Milwaukee certainly would be a welcoming place for them."
Sukhoi Su-25 jets were seen bombing Irpin neighborhoods on March 5, as shelling intensified in the region. A Russian Sukhoi Su-30 was reportedly shot down over Irpin by the city's air defense system.
Irpin has become a vital strategic location, and essential territory for Russian forces to control before they can drive to the capital. Ukraine's military continues to hold the city and deny the Russians an avenue to advance. But parts of the area have fallen into Russian hands.
On March 6, Ukraine President Volodymr Zelenskiy expressed a national outrage after a young family was killed evacuating Irpin, as hundreds of civilians gathered near a damaged bridge. Deliberate attacks on civilians are considered a war crime.
"A family was killed in Irpen today. A man, a woman and two children. Right on the road. As in the shooting club. When they were just trying to get out of town. To escape. The whole family. How many such families have died in Ukraine! We will not forgive. We will not forget." – President Zelenskiy
Russian mortar fire began some distance away and people were caught in the open. Eight died in the shelling, including a woman, her teenage son, a primary school-age daughter, plus a family friend. Their belongings were seen scattered around the street in a recorded video of the attack.
Mayor Markushin sent a text message that described seeing the four killed in front of his eyes when a shell hit them. "It is impudence, they are monsters. Irpin is at war, Irpin has not surrendered," he said.
© Photo
Lee Matz, Oscar Tovar, Sеrhіі Nuzhnеnkо, Vаdіm Ghіrdа, Rоmаn Pіlіpеy, and Еmіlіо Mоrеnаttі
Milwaukee has a small but thriving Ukrainian American community, and Irpin is a sister city. Follow the special coverage by Milwaukee Independent for updates on the Russian invasion, and about how the fight by Ukraine's people to preserve their democracy is having an impact on the families and businesses here in Milwaukee. mkeind.com/ukraine
Help maintain a reliable news source in Ukraine by supporting the Kyiv Independent, an English-language media outlet created by journalists who were fired from the Kyiv Post for defending editorial independence. Donations can be made via patreon or gofundme.