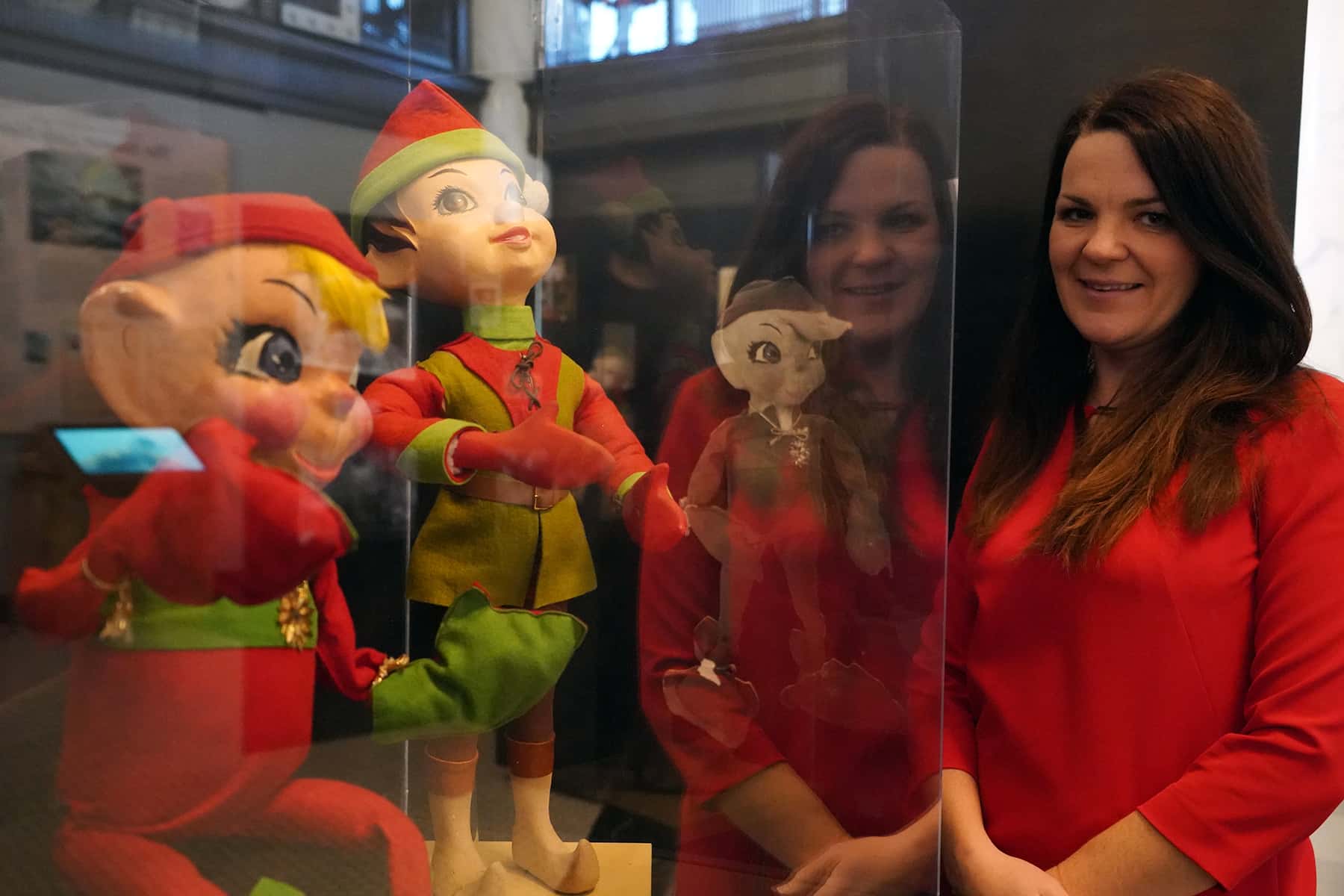 The Milwaukee County Historical Society is celebrating the 90th anniversary of Billie the Brownie's first radio broadcast with a special holiday exhibit on public display until December 30.
Billie the Brownie was a character that embodied Christmas in Milwaukee from the 1920s to the 1950s, and became an absolute phenomenon with children from that era. Often confused as elves, Brownies are household spirits that are invisible to humans.
"Every year, people call or visit to ask about Billie the Brownie," said Mame McCully, Executive Director of the Milwaukee County Historical Society. "He was and always will be a part of the magic of Christmas in Milwaukee. He was in the hearts of so many children and they have passed on those stories from generation to generation."
Brownies were popularized beginning in the 1880s by a series of illustrated stories published in children's magazines. Created by Canadian illustrator and author Palmer Cox, they were based on elements from traditional English mythology and Scottish stories told by his grandmother.
Dozens of the "little men" were produced as various toys. They also appeared in numerous advertisements, and took their namesake after being merchandised in a promotion of Kodak's "Brownie Camera."
In Milwaukee, Brownies began to appear in Schuster's Department Store advertisements and displays during the 1920s. By 1927, "Billie the Brownie" was featured in Schuster's annual Christmas Parade.
Billie the Brownie became well-known for his 15-minute radio segment, which aired daily on WTMJ from November 8, 1931 to December 24, 1955.
The show's popularity took off just as radio became a mainstay of entertainment in American households. It also offered families something to feel good about while Milwaukee experienced the difficult times of the Great Depression and World War II.
Billie was originally presented as an advanced scout for Santa's arrival in Milwaukee. He would communicate via shortwave radio with the North Pole, to update Santa about local children and get the progress of toy production in Santa's workshop. He told colorful tales and created wonderful holiday memories through the imaginations of local children.
Young students would run home from school to listen to Billie the Brownie on the radio each weekday evening at 5:00 p.m. Billie would encourage them to do their chores, brush their teeth, eat their vegetables, mind their parents, and write their Christmas "wish letter" to Santa.
Kids all over the metro Milwaukee area would send letters to the radio station so that Billie would read them aloud, in the weeks leading up to Christmas, and pass their wishes along to Santa. WTMJ received 100,000 letters in 1947.
One special child, David Begel of Whitefish Bay, would hear his letter read first each year from the time he was 5-years-old. By the time he was 11, his mother Carol Cotter finally sat him and his brother down one night and explained that she was Billie the Brownie. Cotter was the voice of Billie for seven years.
Schuster's was acquired by Gimbels in 1961, along with all the rights to Billie the Brownie. By 1973, Gimbels decided to bring the Brownie back as a marketing icon. They recreated him to be a more cute Pixie-like character, and why most people now think of him as an elf.
"My grandparents loved Billie. My grandma used to send my sister and me cassette tapes in the mail ahead of Christmas. She pretended to be Billie, and would tell us a story, and then warn us that Christmas was near and Billie was watching," added McCully.
Lee Matz and Milwaukee County Historical Society