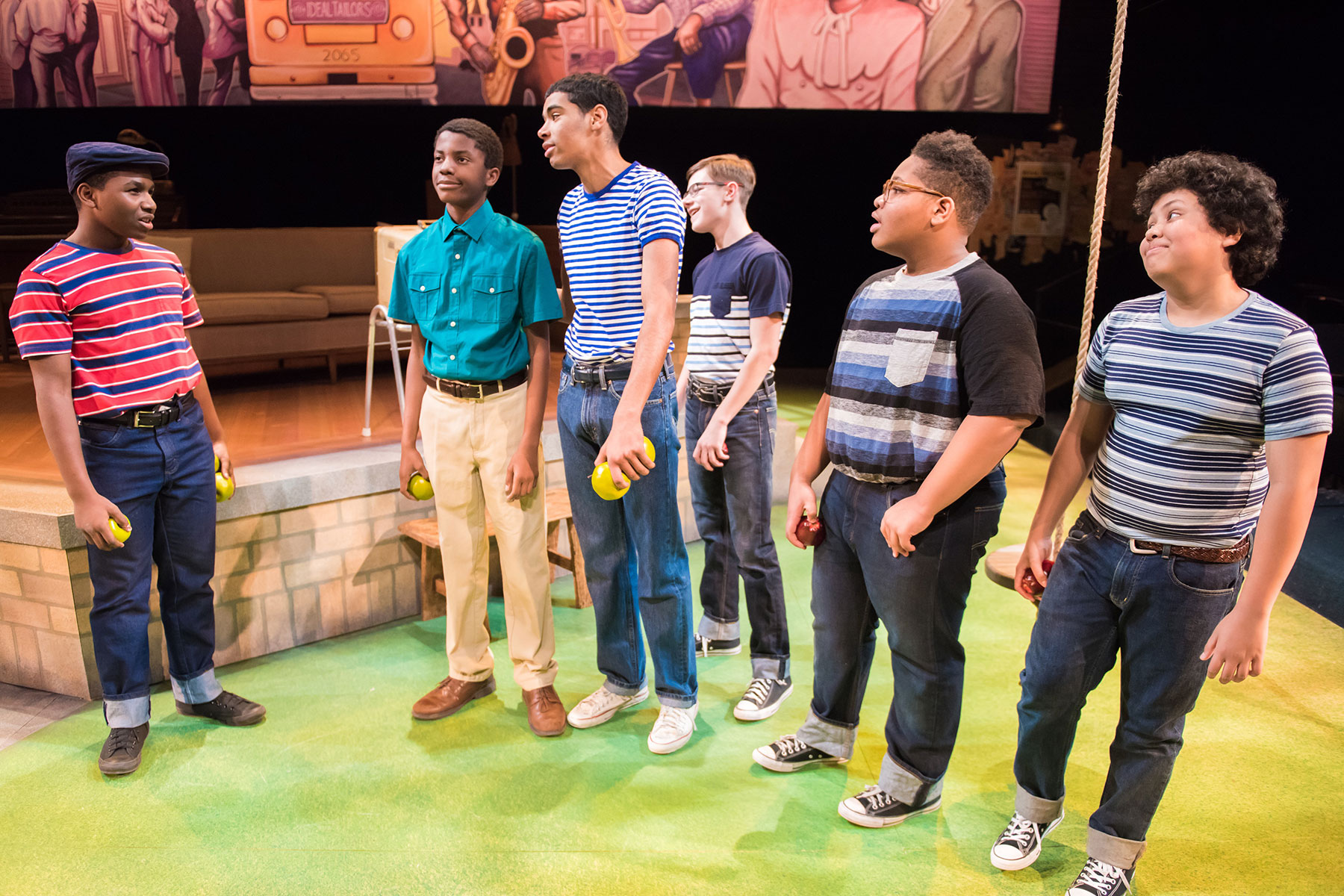 "Welcome to Bronzeville" is a humorous and touching coming-of-age story that pays tribute to Milwaukee's revered Bronzeville neighborhood.
The Milwaukee Bucks Foundation and First Stage, one of the nation's most acclaimed children's theaters, have partnered to provide opportunities for local youth to experience Welcome to Bronzeville. The $2,500 grant will cover the cost for 100 tickets, which will be distributed to PEARLS for Teen Girls and St. Marcus Lutheran School – a pair of Bucks partners providing important services for youth in Milwaukee's Bronzeville neighborhood.
"While much attention is focused on our downtown development, we are a neighbor to Bronzeville and are proud to provide our partners at PEARLS and St. Marcus Lutheran with this opportunity to get to know more about one of our community's most intriguing neighborhoods," said Alicia Dupies, Executive Director of the Milwaukee Bucks Foundation
Set to the sounds of jazz and doo-wop, First Stage's world premiere production of Welcome to Bronzeville is a humorous and touching coming-of-age story that pays tribute to Milwaukee's revered Bronzeville neighborhood. Celebrating themes of family and community, the production was developed with input and support from elders and leaders in the Bronzeville community. Welcome to Bronzeville will continue its run at First Stage through February 5.
"We are thrilled to have the opportunity for some of our girls to experience a theatrical production that highlights the thriving culture that once existed in the Bronzeville neighborhood right here in Milwaukee," said Melissa Blue Muhammad, program manager at PEARLS for Teen Girls. "Many of our program participants are unaware of the rich history of our city. Exposing history through the arts is a fun and entertaining way for them to engage in learning."
About Milwaukee Bucks Foundation
The Milwaukee Bucks Foundation launched in the summer of 2016 with the mission of improving the quality of life for youth and families in Wisconsin, with a focus on three areas of critical need: youth education; youth health and wellness; and community betterment. Through financial grants and innovative partnerships with other community-focused organizations, the Milwaukee Bucks Foundation works to provide better outcomes for children and families in Milwaukee and throughout the state.
About PEARLS for Teen Girls
PEARLS for Teen Girls is improving quality of life and strengthening our community one girl at a time by empowering young women with self-development tools, guidance and support to strive for better, brighter futures by living out the PEARLS values: Personal Responsibility, Empathy, Awareness, Respect, Leadership and Support. Their programs provide girls with a safe place, skill development and self-esteem building that lead to better life choices and an opportunity to realize their full potential.
About St. Marcus Lutheran School
St. Marcus School is the education ministry of St. Marcus Ministries, serving approximately 700 students in K4 through 8th grade at its Main Campus on Palmer Street, and 200 students in K3 through 3rd grade at its North Campus on Richards Street. St. Marcus' vision is to be the best, urban Christian school in America. Through expansion, partnership and collaboration, St. Marcus is boldly committed to pursuing opportunities to serve as a catalyst for school reform and community-wide transformation, while working to ensure that every family has access to high-quality education in the city of Milwaukee.
About First Stage
Celebrating its 30th anniversary in 2017, First Stage is one of the nation's most acclaimed children's theaters and the second-largest theater company in Milwaukee. First Stage touches hearts, engages minds and transforms lives by creating extraordinary theater experiences for young people and families through professional theater productions that inspire, enlighten and entertain, and unparalleled theater academy that fosters life skills through stage skills, and dynamic "Theater in Education" programs that promote active learning in our schools and community.